Je kunt eerst een proefles volgen bij Zangles Driebergen. Jouw stem is uniek, jouw stijl is uniek, jij bent uniek! Verschillende mensen en stemmen hebben behoefte aan verschillende soorten lessen. Charlotte stemt haar lessen graag af op wat jij nodig hebt, maar of er een 'klik' is voel je vaak pas tijdens de les. Charlotte neemt hier graag de tijd voor samen met jou. Daarom is het fijn om een proefles af te spreken om samen te ontdekken of zangles bij Zangles Driebergen iets voor jou is.
---
Bij de proefles maken we eerst kennis met elkaar en kun je vertellen wat je zangervaring is en wat je graag zou willen leren in de zanglessen. Het kan ook zijn dat je gewoon nieuwsgierig bent hoe een zangles in zijn werk gaat en of het iets voor jou is. Alles is mogelijk en leerlingen van ieder niveau zijn welkom. Daarna doen we een aantal oefeningen om je lichaam, adem & stem op te warmen. Hierbij kijken we naar hoe je je stem nu gebruikt. Vervolgens werken we aan een nummer naar keuze. Bereid een liedje voor dat je graag zingt, waar je je comfortabel bij voelt of waar je juist graag aan wilt werken. Het is handig om de tekst met akkoorden erboven twee keer uitgeprint mee te nemen. Als je niet weet hoe dit moet, dan is dat niet erg en werken we met de karaokeband. Als je geen liedje weet, kan je ook aan Charlotte vragen om (een) nummer(s) voor te stellen. Daarna kan je beslissen om je in te schrijven voor een vaste lestijd, een leskaart aan te schaffen of verder te gaan met losse zanglessen.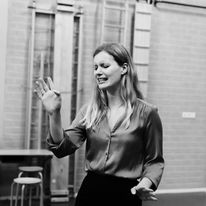 ---
Wil je een proefles bij Zangles Driebergen? Neem dan nu contact op.
---